2023 Topical Cream Benefit Gala Recap
Honoring Camille Henrot
Celebrating Ten Years
On April 19th, 2023, we gathered with over one-hundred guests at the Angel Orensanz Foundation on the Lower East Side to celebrate Topical Cream's tenth anniversary at our first-ever gala. The gala honored multidisciplinary artist Camille Henrot, whose work interrogates the most pressing issues facing our world today by bridging ancient myths about motherhood and birth with contemporary concerns about waste and sustainability.
Camille's 2020 painting Wet Job, which we featured in an in-depth interview about her show Mother Tongue in 2021, anchored the event—quite literally, as it was installed adjacent to the podium during the gala's main program. Camille graciously donated the painting to benefit our organization as we look to build our next decade of programming.
Nine additional artists from our community donated work to the silent auction, including Ebecho Muslimova, Emily Mae Smith, Francesca Wade, Jade Lai, Lena Henke, Maia Ruth Lee, Michele Abeles, Nicole Eisenman, and Raque Ford. Like Camille, many of these artists create works that challenge the gender politics of traditional figurative painting. Ebecho Muslimova's donation depicted her iconic Fatebe character blasting off toward the moon, while Nicole Eisenman's contributions blended portraits of the twentieth-century artist Francis Picabia with selfies taken via Snapchat.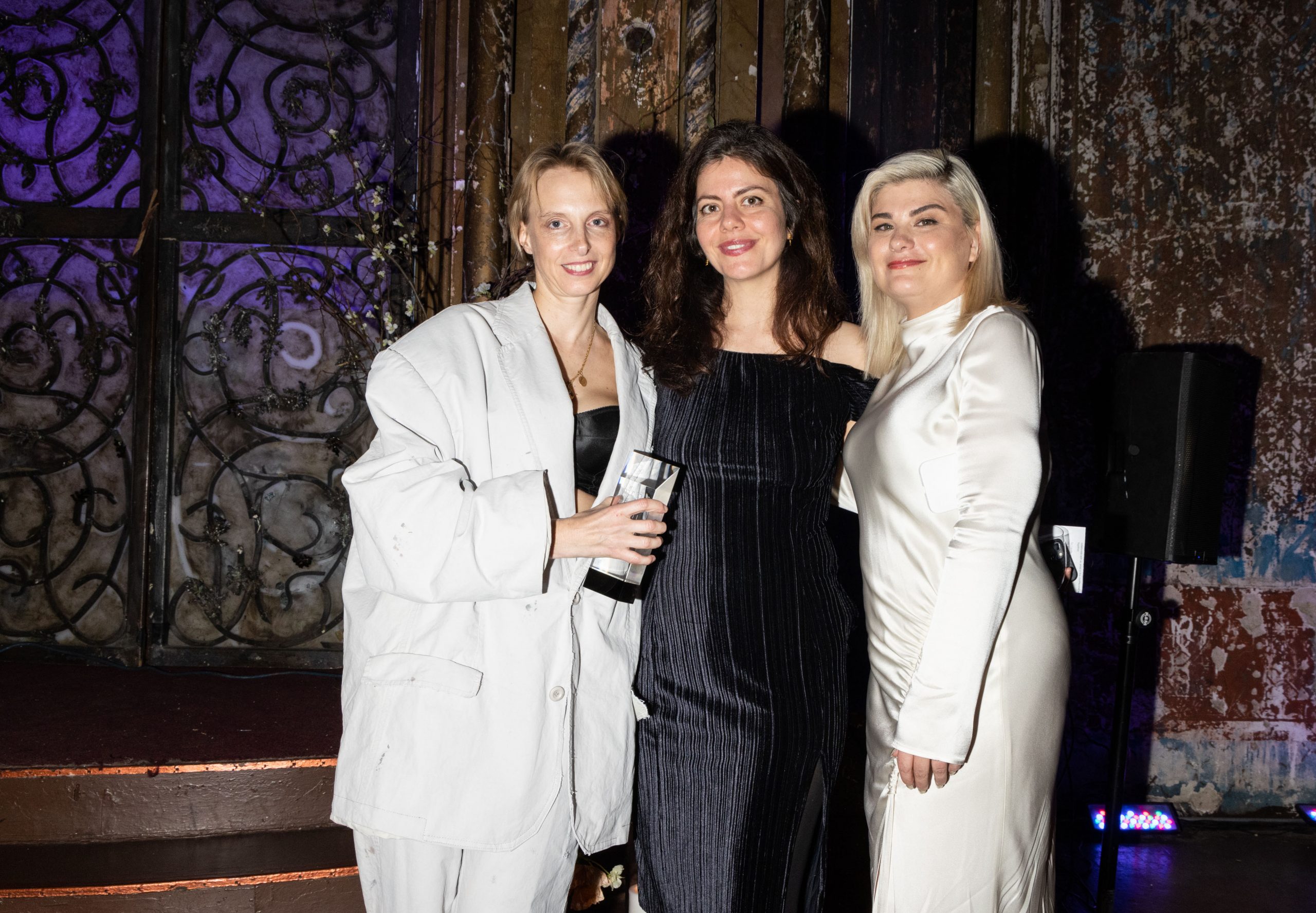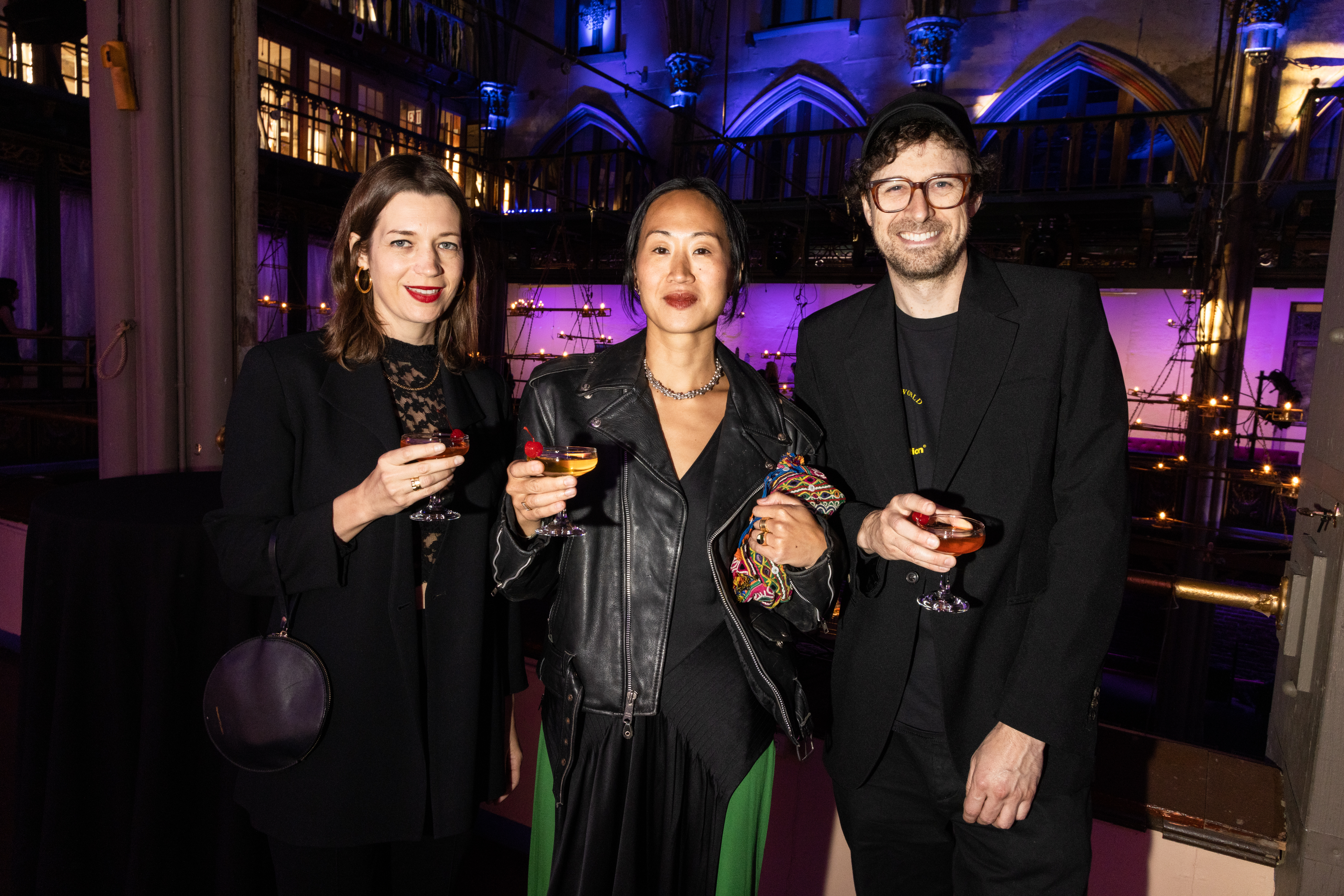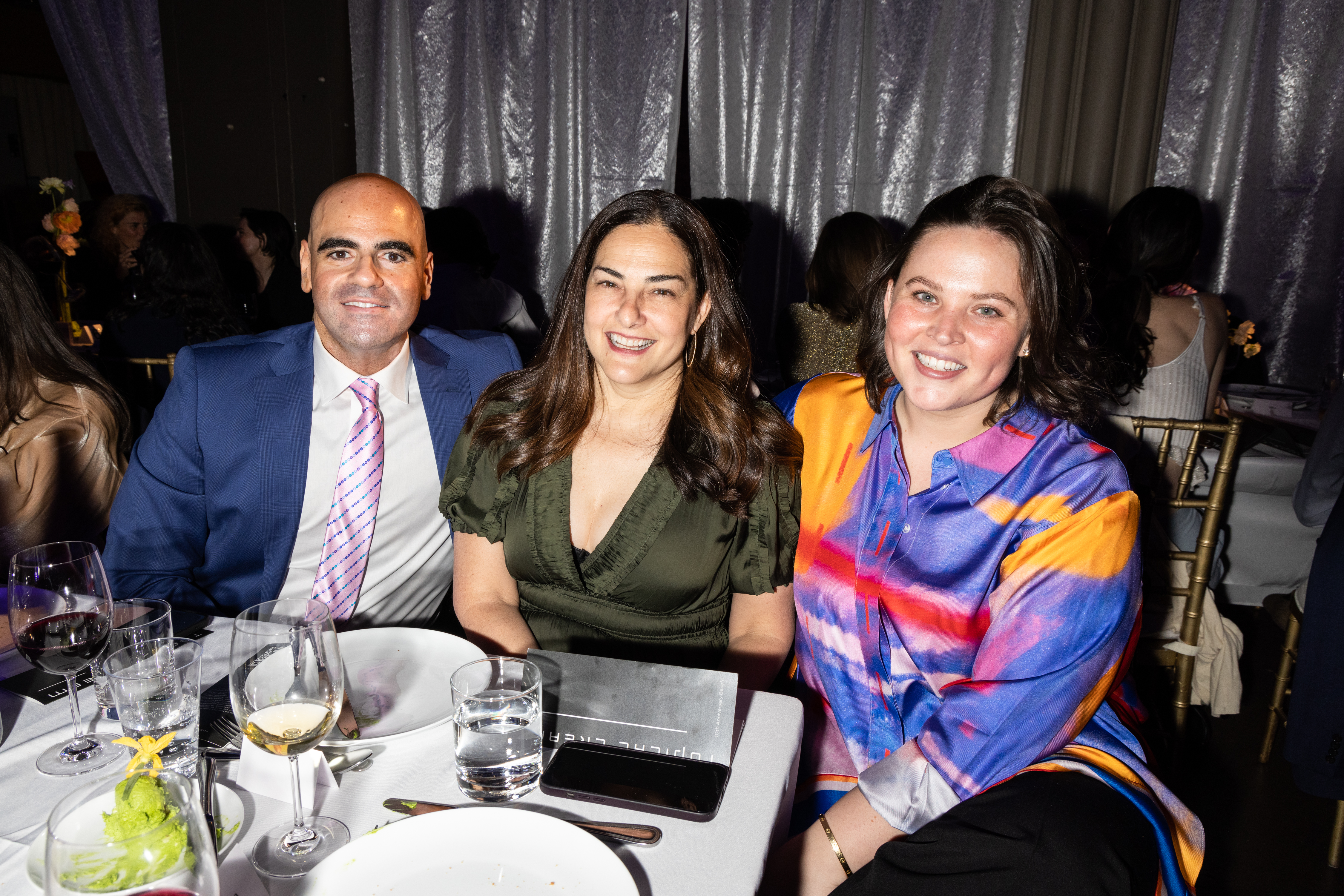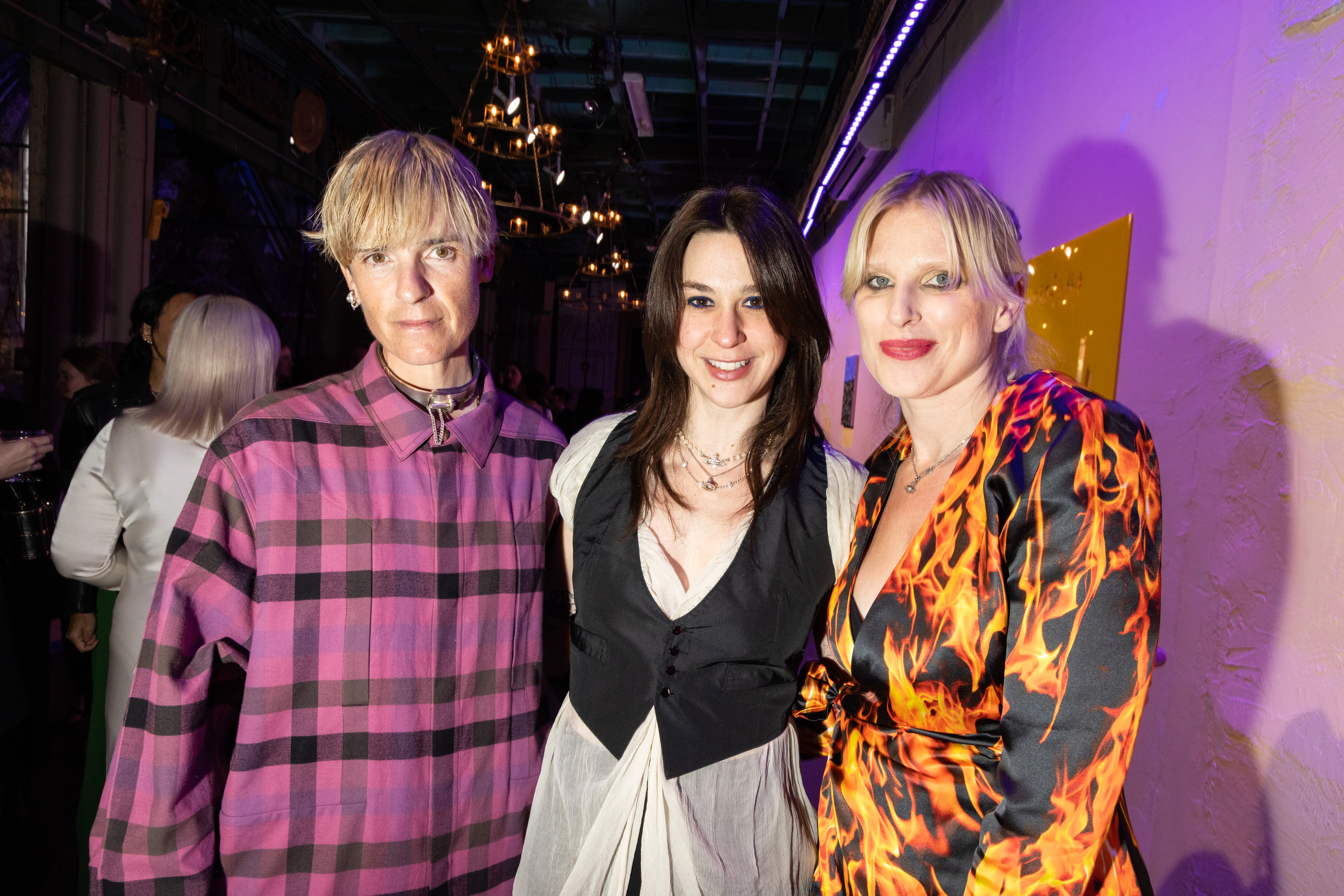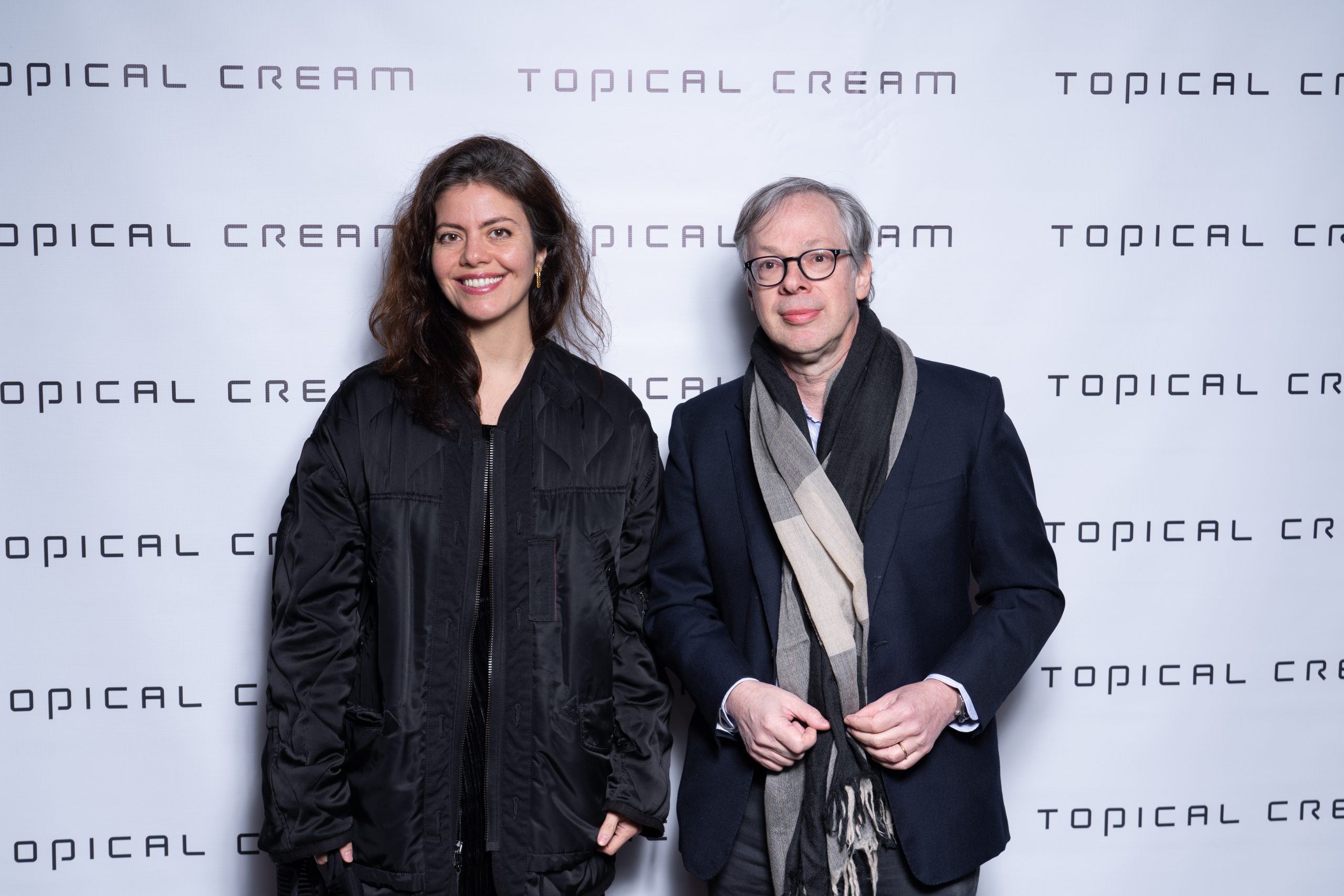 CamilleHenrot_RubaKatrib_PS1CuratorialDirector_LyndsyWelgos_TopicalCreamFounder
Lyndsy Welgos, the Founder of Topical Cream, and Ruba Katrib, the 2023 Editor in Residence, honor artist Camille Henrot at the Angel Orensanz Foundation on April 19th, celebrating the organization's tenth anniversary.
Caitlin Rider, Jade Lai, and Seth Zucker
Creative Producer and Communications Strategist
Caitlin Rider, painter Jade Lai, and Art Director Seth Zucker enjoy pre-dinner cocktails.
Ralph DeLuca, Jennifer Olshin, and Christina Carey
Collector Ralph DeLuca, Founder of Friedman Benda Gallery Jennifer Olshin, and Hauser & Wirth's Christina Carey enjoy the festivities.
Company Gallery Gallerists Sophie Morner and Taylor Trabulus pose with artist Cajsa Von Zeipel
Sophie Mörner, Taylor Trabulus, and Cajsa Von Zeipel of Company Gallery bring the glow-up.
katrib
Curator and Director of Curatorial Affairs at MoMA PS1 Ruba Katrib and Art Historian and Collector Olivier Berggruen prepare for the night ahead.
As our guests filtered into the building, they were given the opportunity to view and bid on the works in the auction, which were installed on the Foundation's second floor. A cocktail hour featuring sparkling wine by Rev Zovine, and food pile, curated by Jen Monroe of Bad Taste Biz, fueled guests as they mingled with friends new and old.
A brief vocal performance by Sahra Motalebi opened the main event. Artist Marie Karlberg served as Master of Ceremonies, taking the stage throughout the night to provide brief remarks as guests enjoyed Bad Taste's dinner menu, which made ample use of fresh spring produce. In true Topical Cream spirit, Marie's quips were at once humorous, anecdotal, and pointedly political—at one point, she commented on how warm it felt in the building, removing her top layer of clothing to reveal a Thank God For Abortion t-shirt underneath.
Both Marie and our 2023 Editor-in-Residence, Ruba Katrib, referenced their early interactions with Camille in their remarks, underscoring the artist's generosity as a collaborator. Marie had been invited by Camille to perform at the Palais de Tokyo in Paris as part of the carte blanche that she was given by the kunsthalle in 2017, and Ruba co-organized the exhibition Puddle, pothole, portal with Camille at SculptureCenter in 2014, introducing American audiences to her work for the very first time.
With Ruba, our Director Lyndsy Welgos introduced Camille and gave her the night's award. Lyndsy recalled her time interviewing Camille in 2021, commenting on how moved she was by the artist's candor in talking about her experiences as a new mother, and the sensitivity she showed in thinking through the links between postpartum depression and psychological responses to the climate crisis.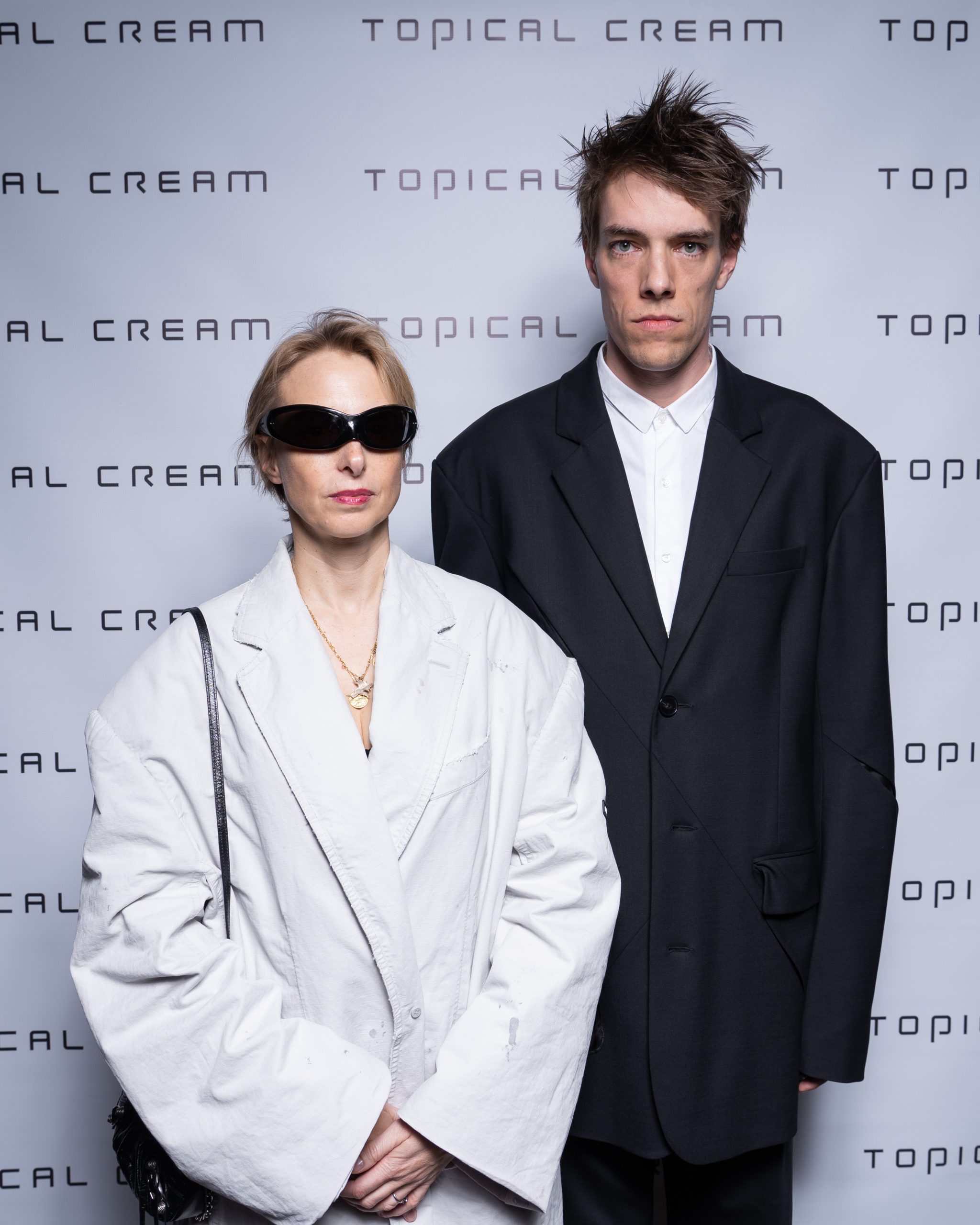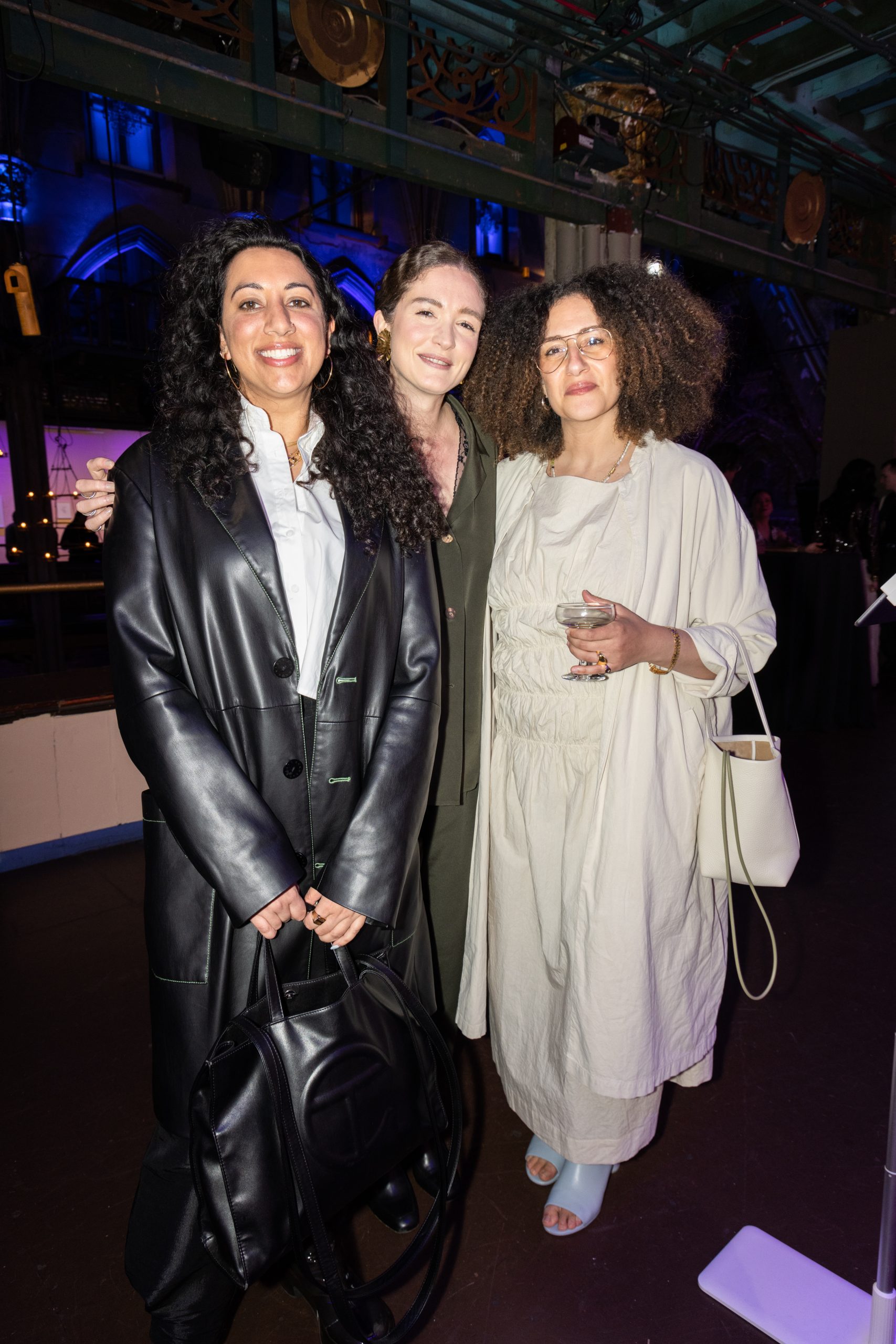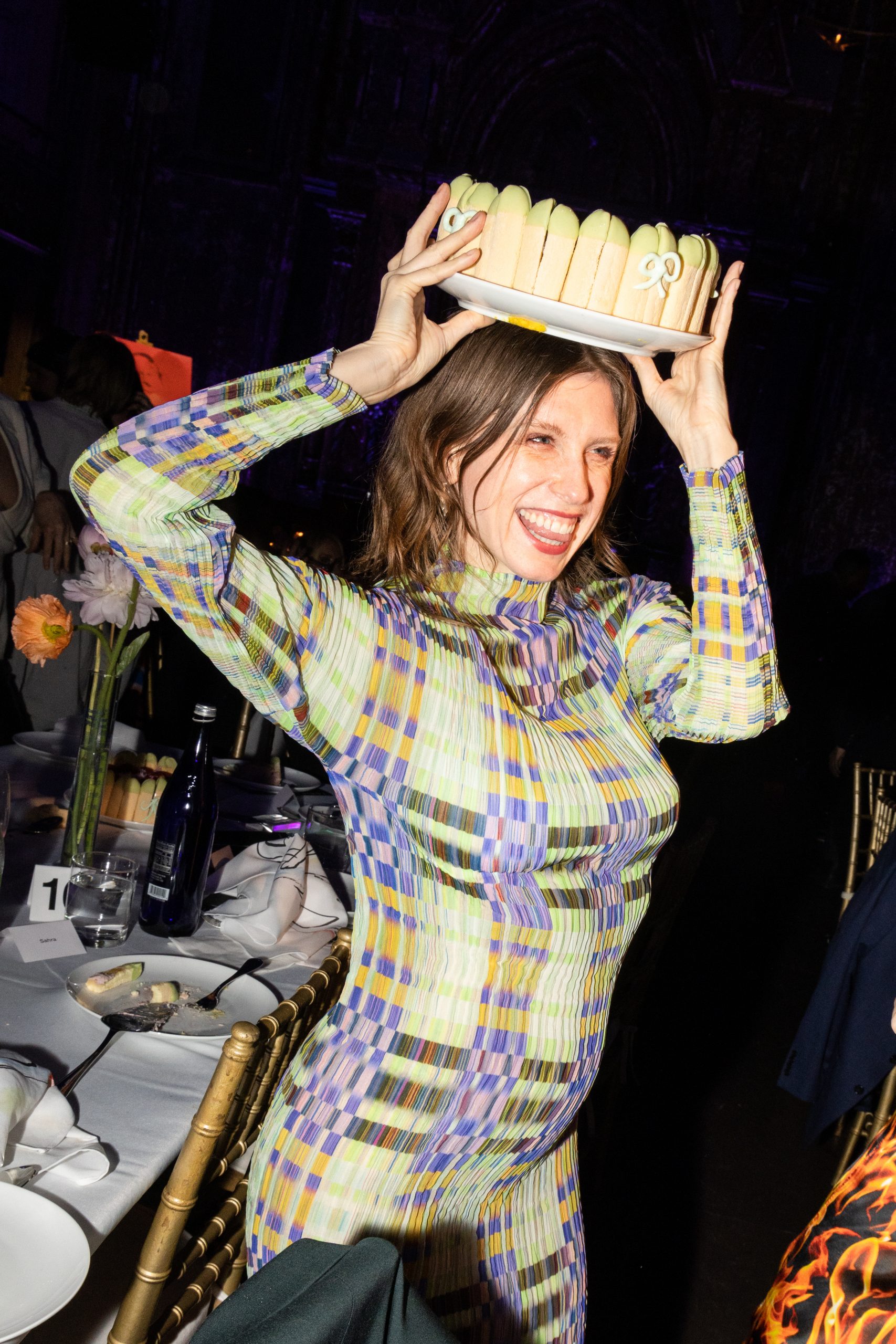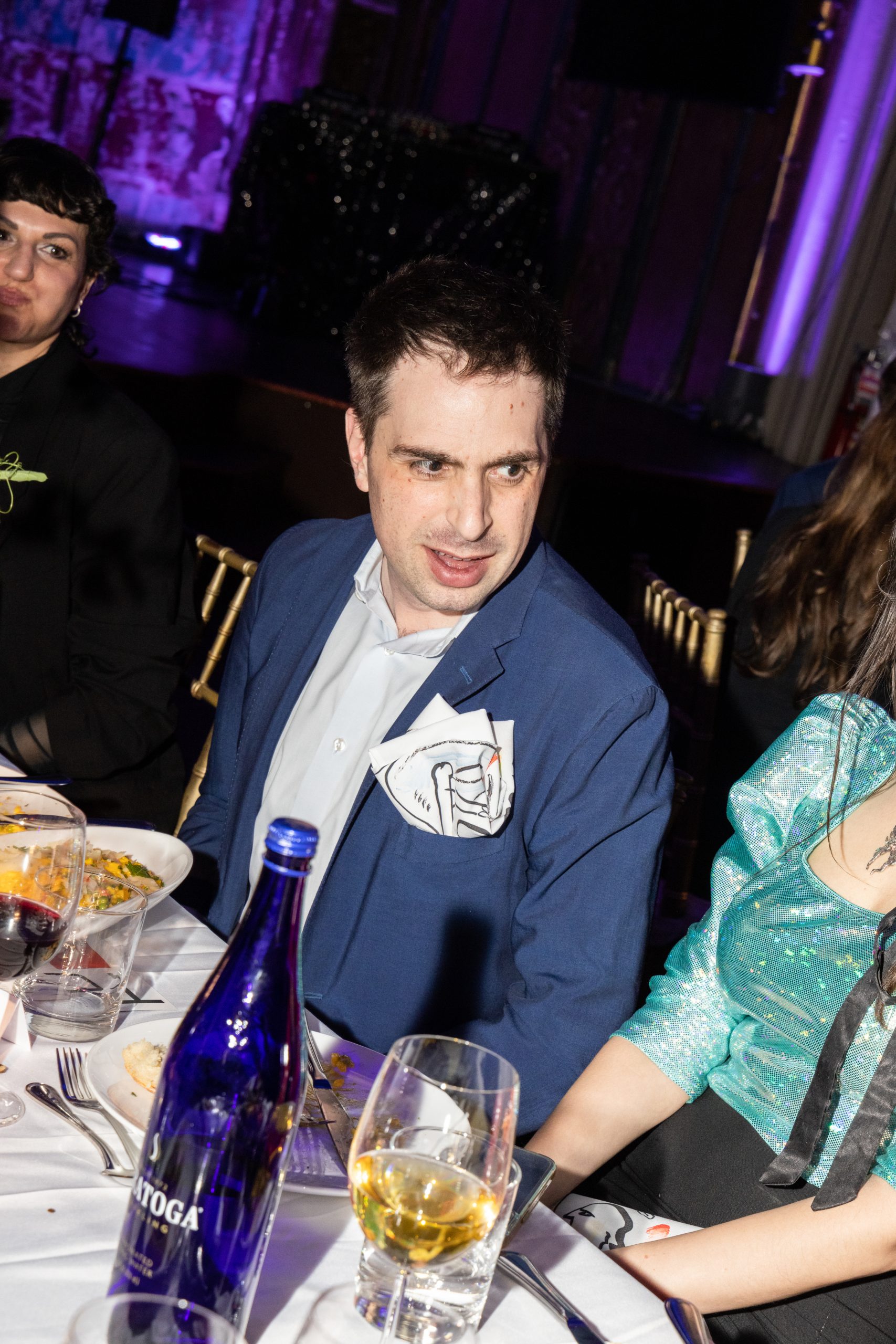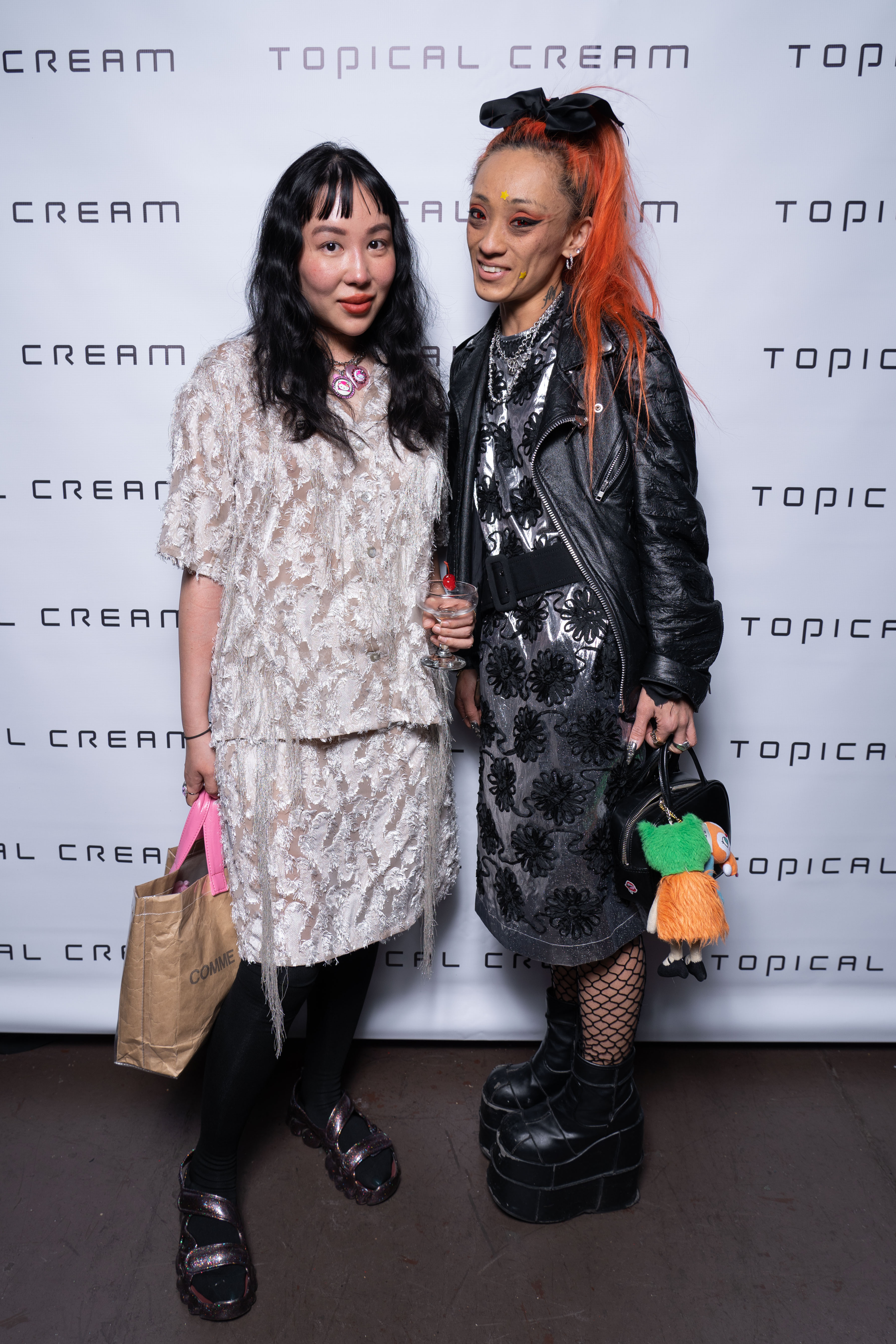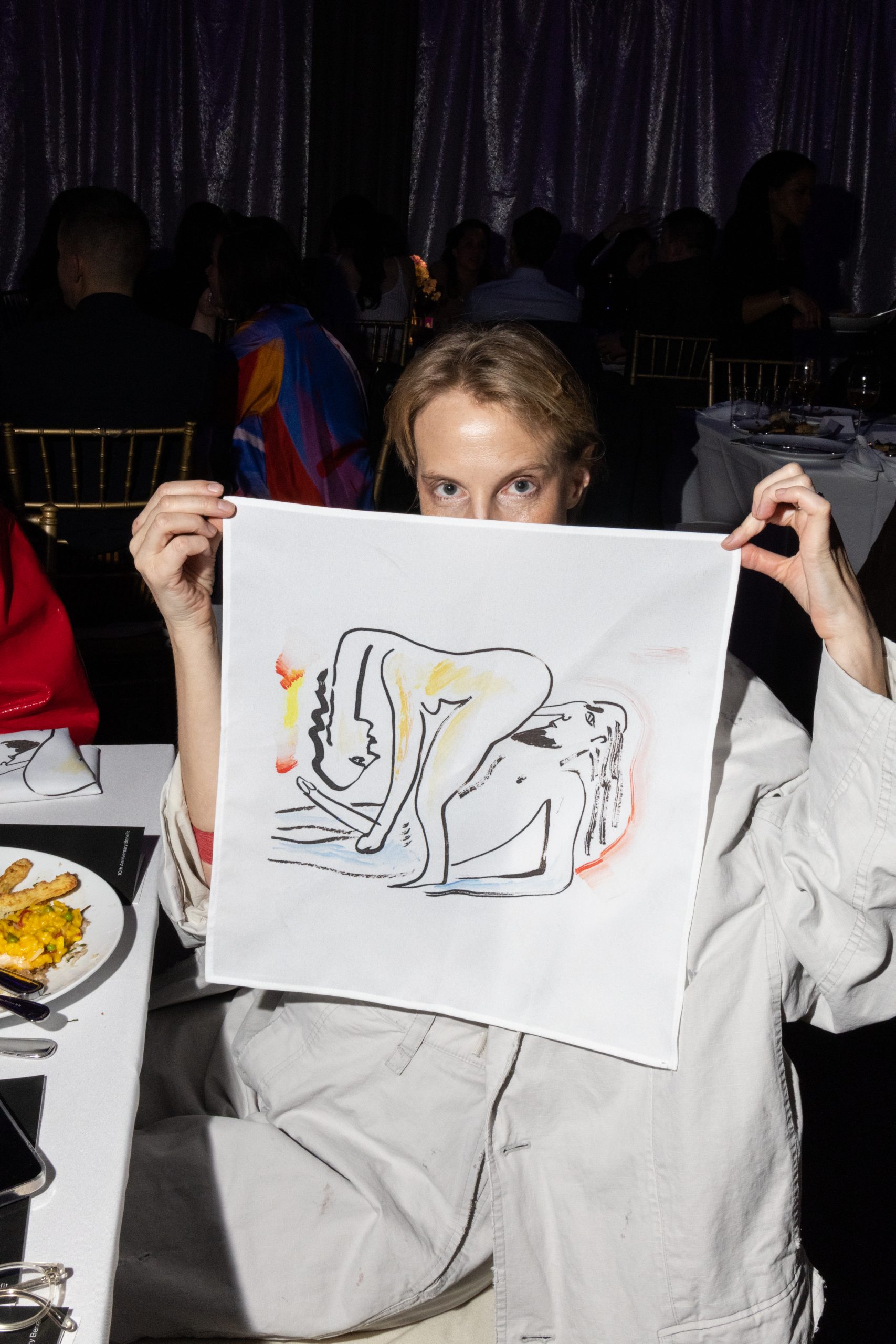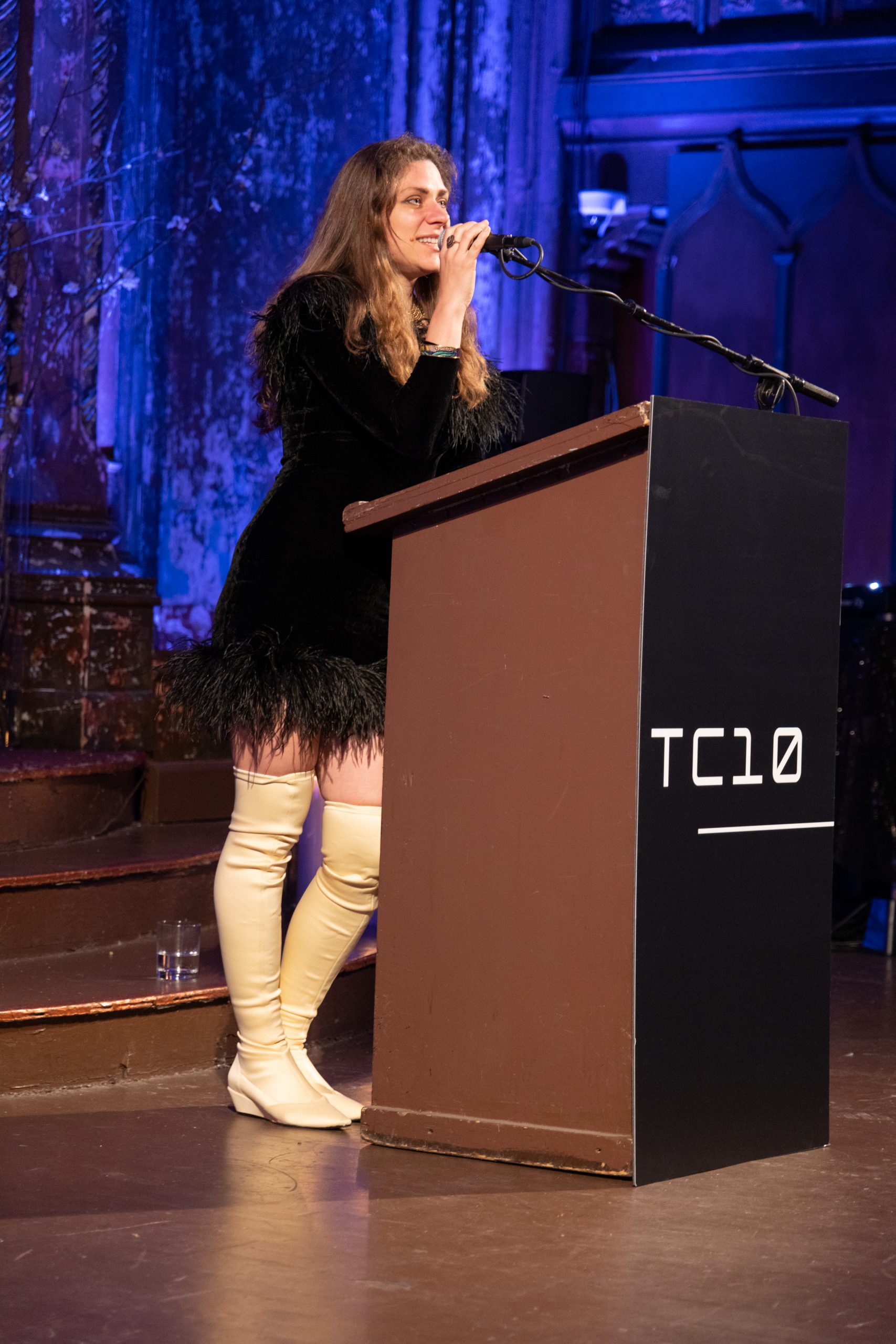 CamilleHenrot_MauroHertig_in_Balenciaga_Looks
Camille Henrot and Mauro Hertig arrive at the 2023 Topical Cream Benefit Gala.
DiyaVij_Creative_Time_LilyHerzan_DeanaHagagg_MellonFoundation
Diya Vij, Curator at Creative Time, Lily Herzan, Executive Coordinator at The Whitney, and Deana Hagagg, Program Officer at the Mellon Foundation gather to celebrate Topical Cream's tenth anniversary.
CameronMesirow_AKA_Glasserr_Wears_BadTaste_Biz_Oishiistrawberries_cake
Cameron Mesirow, aka Glasser, gracefully takes the dance floor turning Jen Monroe's pastry into a performance.
TopicalCream10th_RebeccaSmeyne_103_CG9A0230
Jason Farago, The New York Times Critic at Large, sits for the gala dinner.
Gia_Kuan_PR_MAVEN_EriWakiyama_artist
PR Maven Gia Kuan and artist Eri Wakiyama pose together ahead of the gala.
Honoree_Camille_Henrot_withvhercustom_napkin
Honoree Camille Henrot shows off her custom napkin.
TopicalCream10th_RebeccaSmeyne_012_CG9A0023
Master of Ceremonies Marie Karlberg rallies the crowd.
In her opening speech, Lyndsy reflected on her reasons for founding Topical Cream ten years ago, seeking to counter an art media ecosystem that had a long history of marginalizing and undervaluing the work of women and gender non-conforming artists, particularly those who aren't at the center of the market. Her speech was a gesture of gratitude, a thank-you to those in the audience who had helped to transform Topical Cream into a collective record for women and gender non-conforming artists, writers, and curators. But it was also a call to action and a reminder that we cannot rest on our laurels. "Let us honor the achievements of the past, while also looking to the future with hope and determination," Lyndsy said. "Let us pledge to do everything in our power to ensure that the voices of women and gender non-conforming artists are heard, valued, and celebrated."
As with any Topical Cream event, the gala concluded with a dance party, featuring a DJ set by Venus X. Notable guests included Arden Wohl, Deana Haggag, Julia Huxtable, Gia Kuan, Eri Wakiyama, Taylor Trabulus, Katy Brandes, Diya Vij, Sophie Morner, Cajsa von Zeipel, Bree Zucker, Ralph Deluca, Meriem Bennani, Suzanne Geiss, and more.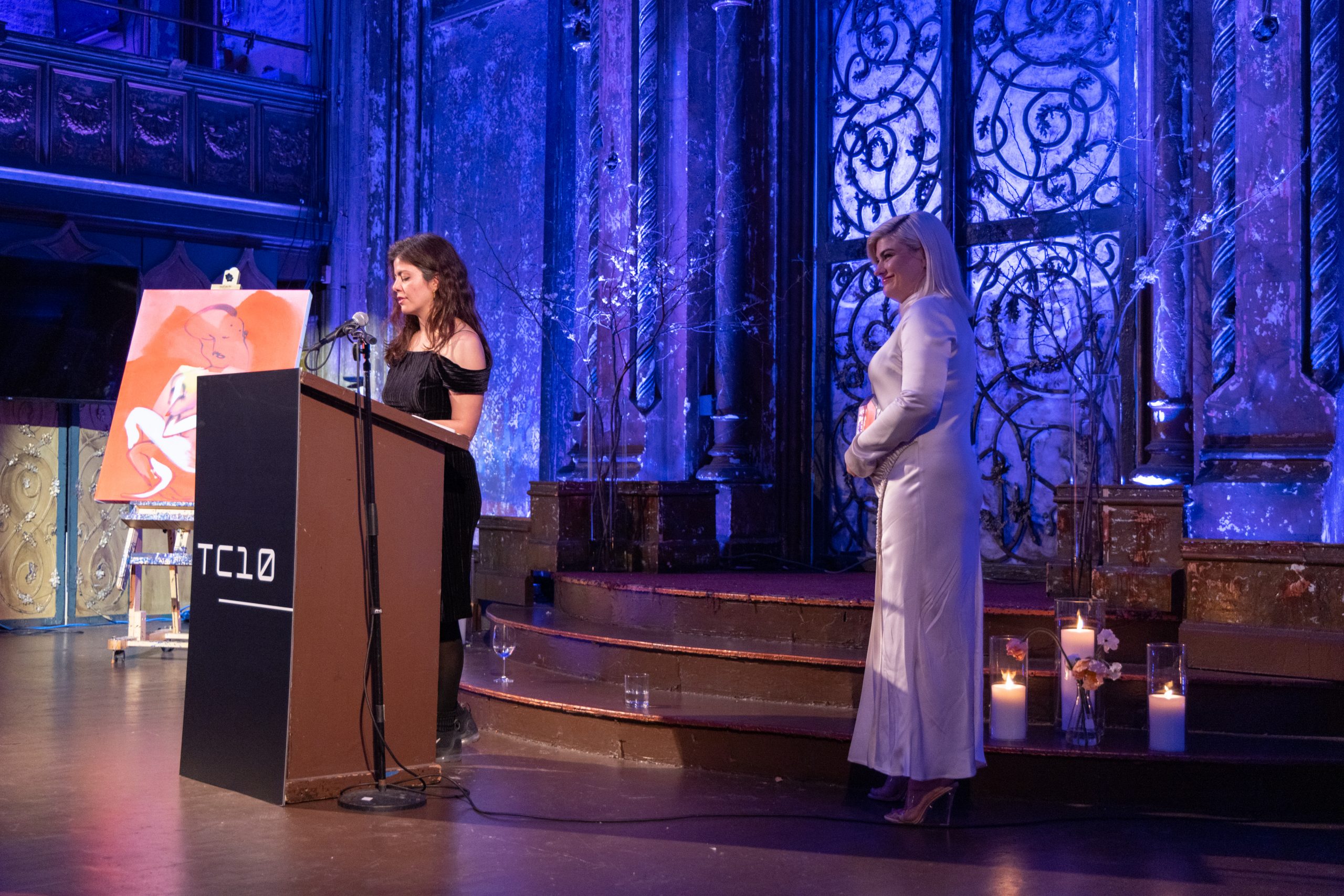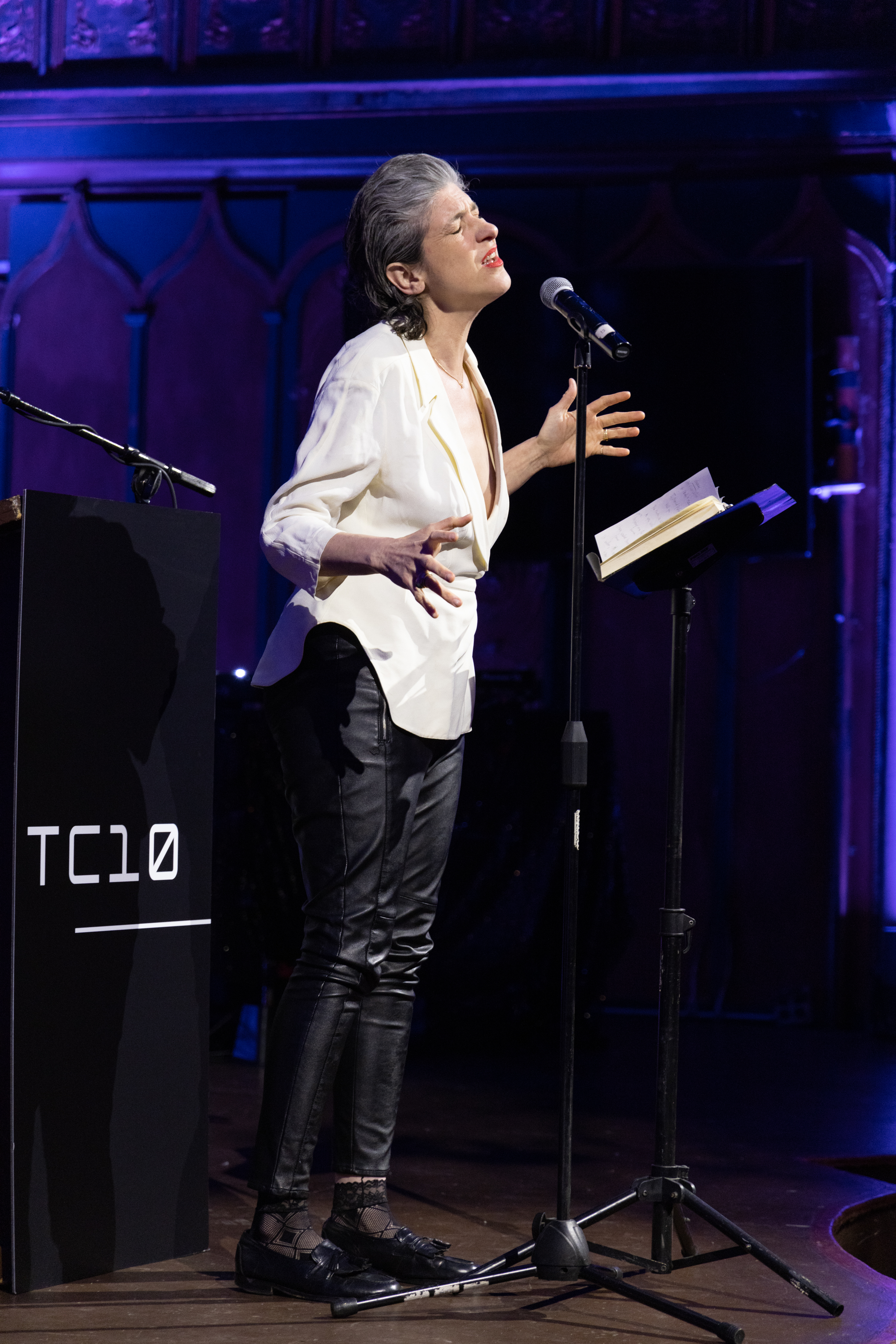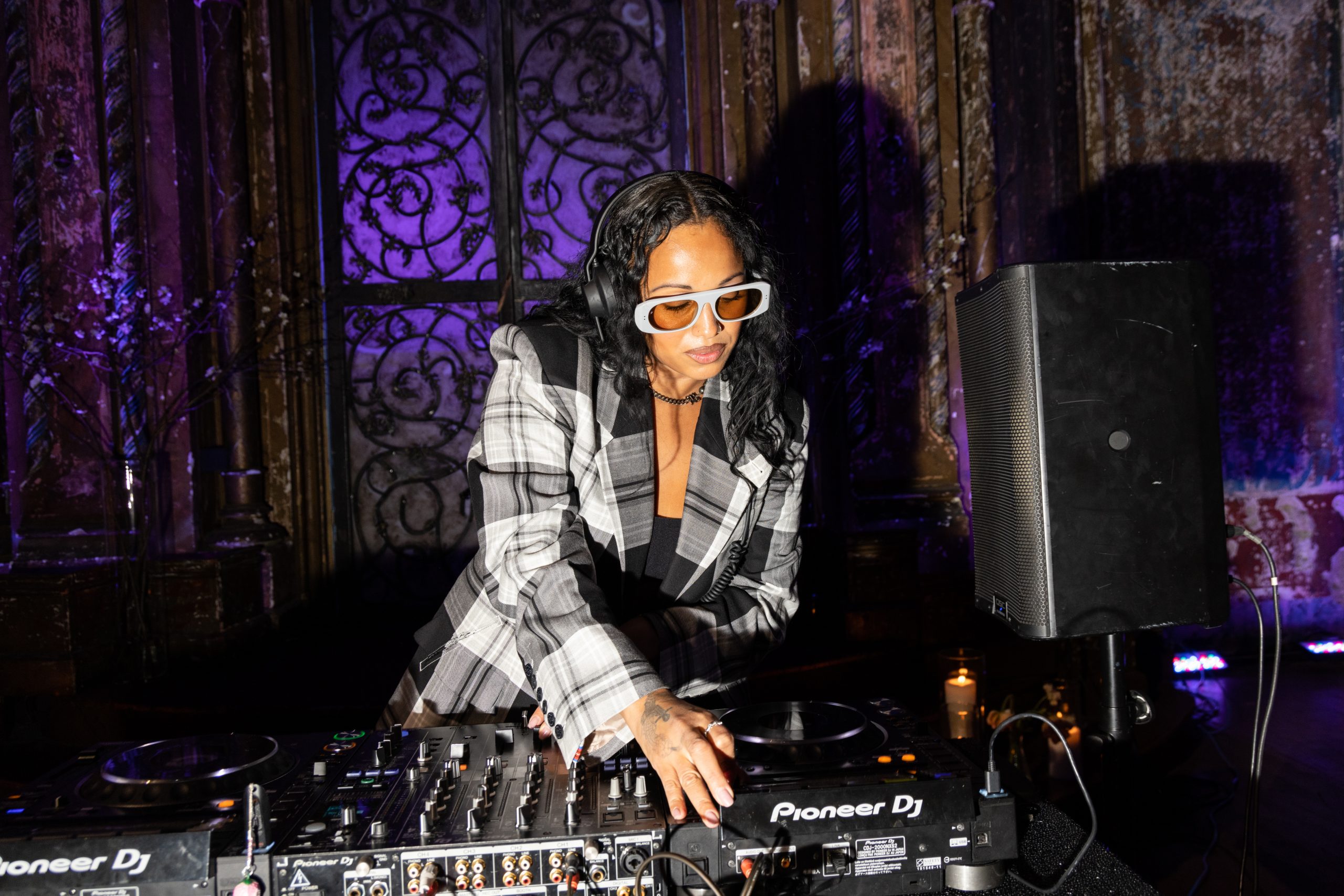 TopicalCream10th_RebeccaSmeyne_024_CG9A0254
Ruba Katrib and Lyndsy Welgos stand to honor artist Camille Henrot.
TopicalCream10th_RebeccaSmeyne_013_CG9A0037
Performance artist Sahra Motaleb opens the dinner portion of the event.
TopicalCream10th_RebeccaSmeyne_011_CG9A0366
Legendary artist Venus X plays to the crowd.
Special Thanks:
Fundraising Committee:
Jane Hait, Julia Trotta, Lily Smith, Lyndsy Welgos, Katy Brandes, Marcella Zimmermann, Seth Stolbun, Yulu Serao
Host Committee:
Arden Wohl, Erin Knutson, Gia Kuan, Heather Flow, Jade Lai, Juliana Huxtable, Lena Henke, Maia Ruth Lee, Marie Karlberg, Raque Ford, Ruba Katrib, Seth Zucker
Planning Committee:
Ara Anjargolian, Elizabeth Baribeau, Elizabeth Wiet, Rosie Motley, Ruba Katrib